Ultrasonic inspection of hollow axles and shafts
Key
Interchangeable immersion technike probes in rotating probe system
Non-contact inspection with oil as couplant
Diameter range: ≥ 25 mm
Easy adaption of probe system diameters
Feed unit with integrated cable and chain storage
Electric lifting system with remote control for attachning the feed unit
Fast and ergonomic setup
Features
Space requirement of only 1 m
Inspection times per axis: 10 minutes
System availability: 97% (just 3% downtime for routine maintenance)
Detection of transverse, longitudinal as well as volume defects
Certified according to the regulations of German, Swiss, British and Russian railroad operators
Technical data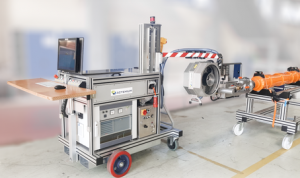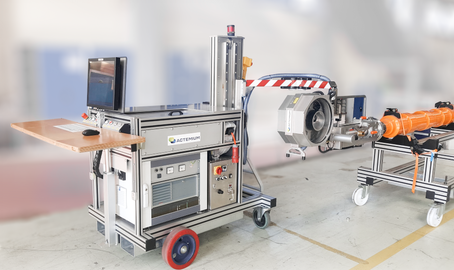 | | |
| --- | --- |
| Trolley dimensions | LxWxH in mm: min.: 1060 x 720 x 1210 / max. 1060 x 720 x 2008 |
| Hardware | PC for inspection with industrial screen and keyboard |
| | UT electronics with position-dependent amplification |
| | PLC |
| Software | Convenient inspection software |
| | Easy parameterization |
| | Easy documentation of inspection results |
| | Manual and mechanized inspection possible |
| | Special analysis operation |
| | PGC editor for setting up new axes |
| | Optional storage of TD data for offline analysis |
| Couplant | Integrated oil circuit, oil tank capacity 10L |
| | Oil pressure adjustable |
| | 230 V UPS for chang of location without system shutdown (30 min) |
| Probes | 4,5 MHz probes |
| | Probe system for 30 mm bores: four probes (2×37° and 2×0,5°) |
| | Probe system for 53 mm to 90 mm bores: eight probes (2×37°; 2×0,5°; 2×45° and 2×70°) |
| | Adaption of probe system to other sizes possible |
| | Rotation speed max. 90 rpm, feed per revolution 3-5 mm |
| | Trigger distance 1° |
Sofware and control

Customized software
Remote maintenance and calibration
Filtering of results to show just relevant indications
Intuitive operation
Intuitive Bedienung
Easy to understand, safe reports

Models and optional features

Models

Maxi-SHUTTLE – for axle production and heavy maintenance
Multi-SHUTTLE – for maintenance of axles with inner diameters between 53 mm and 90 mm
Mini-SHUTTLE – for maintenance of axles with inner diameters of 25 mm or 30 mm

Optional features

Self-propelled trolley with driven axle
Lifting platform

Acceptance, commissioning and training

Preliminary acceptance at Actemium NDS in Nuremberg
Commissioning on site in presence or as remote
Training program for trainers and operators
In-house trainings
Remote training with successfully used augmented reality tools (Team Viewer Pilot, etc.)
We are your NDT specialist.
Steel | Railway | Aerospace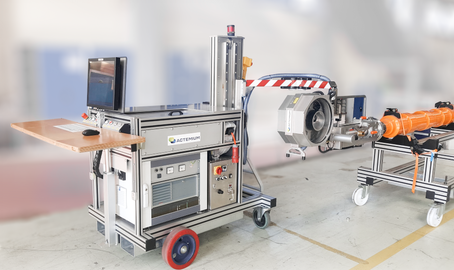 Application
Inspection of axles in light maintenance
The axles of trains must be inspected regularly for signs of fatigue caused by dynamic loads and external influences using ultrasound. In light maintenance, this is done with the SHUTTLE system directly on the train from the longitudinal bore of the axle. This enables a reliable evaluation of the axle condition with minimum downtimes. The SHUTTLE system can be optimally adapted to the local conditions of the depot.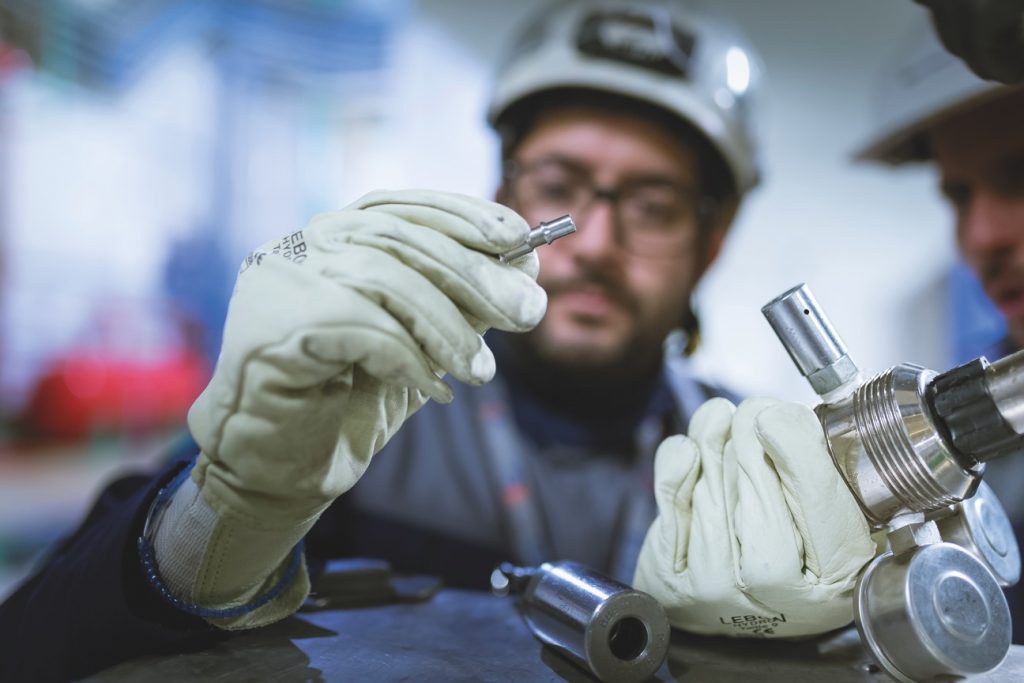 Our Services
NDT Inspection Service | Equipment Rental | Feasibility Studies
Learn more
Any questions?
Actemium Cegelec Mitte GmbH
Actemium NDS
Gutenstetter Straße 14a
90449 Nuremberg
Germany
Tel.: +49 911 9943-0
E-Mail: info.nds@actemium.de